This year, Joe and I have decided to ride the KATY Trail.  The Katy (short for "Missouri-Kansas-Texas Railroad", MKT, or now just KT/Katy) is a 240 mile long off-road trail that runs from Machens, MO (near St. Louis) to Clinton, MO (about 45 miles SE of Kansas City).  240 miles is not a real long distance for bike touring, so we've decided to leave our car at the east end of the trail, ride all the way to Clinton, and then all the way back.  We will be making a side trip or two, including into Jefferson City and into Columbia.  We figure we will end up around 500+ miles for the trip.
The Katy has been on our bucket-list of rides for a while.  I've talked to several others who have biked the Katy, and it sounds really nice.  It hugs the Missouri River and passes through many small towns that grew up along the railroad.  It is also a large part of the Lewis and Clark National Historic Trail, so we hope to get a little education along the way.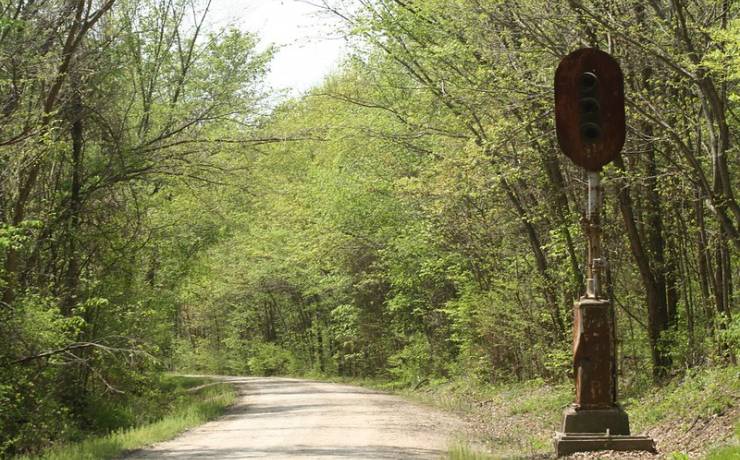 We drive out next Tuesday and begin our journey with a short day of riding on our arrival.
As usual, I will be blogging about our adventures, people we meet, the towns, and of course whatever we find to eat.  I found a really neat full-sized, very lightweight, keyboard that folds up into a tiny package, and then unfolds so you can type on it.  It is Bluetooth and can connect to my iPhone.   I am going to carry it with me and use it for blogging this time.  Typing a long blog using my thumbs on my phone takes a lot of patience, so I think the extra few ounces of weight will be worth it.
We hope you'll follow our journey and perhaps find a laugh or two with us!
A couple of good resources for the KATY:
Missouri State Parks: Katy Trail State Park  and  www.bikekatytrail.com
Peace!
– Deacon Matt